Aug 29, 2019
  |   148 read
Why getting hired in China?
China is becoming attractive to the global talent on an unprecedented level due to the nation's economic size and vibrancy.
According to a report released on Oct 21, 2017 by US business magazine Forbes. The 2018 Global Talent Mobility and Wealth Management report predicts China will be a major exchange hub for global talent by 2022.
While the number of foreign students and talents coming to China is increasing, the competition in the job market is becoming more intense. Therefore, knowing what employers' are looking for, your own strengths, and your possible weakness, is very important to increasing your chance of getting hired.
1 Why do Chinese companies hire foreigners?
Chinese companies are expanding worldwide. Foreigners bring new perspectives, languages, business intelligence, and cultural understanding. For a company to be truly global, it must have a global staff. Hiring foreigners can be a strategic decision for Chinese employers. Due to the current talent shortage in China, employers will also look abroad to find the industry expertise they need.

2. What are Chinese companies looking for in a foreign employee? What can foreigners bring to a Chinese company?
For a foreign employee to contribute the most to a Chinese company, he or she must be adaptable, open-minded, culturally aware, and committed.
One of the most common complaints we hear from our partner HR managers is that their foreign employees do not attempt to integrate with the team or adapt their behaviors to match Chinese cultural norms. Employers also appreciate when their foreign employees are committed to their role and willing to stay long-term, as opposed to leaving as soon as they receive another offer with a higher salary.

2. What are some of the common mistakes that foreigners make when job-hunting in China?
The simplest one we see foreigners not putting a headshot on their CV. In most western countries, photos are not encouraged. However, Chinese companies do prefer to see candidates' headshots.
Remember: a beautifully decorated resume may leave a better impression. Chinese recruiters are used to seeing very professionally edited resumes. Try to improve the presentation of your CV according to the characteristic of your profession to win over your employer. Looks are very important in China.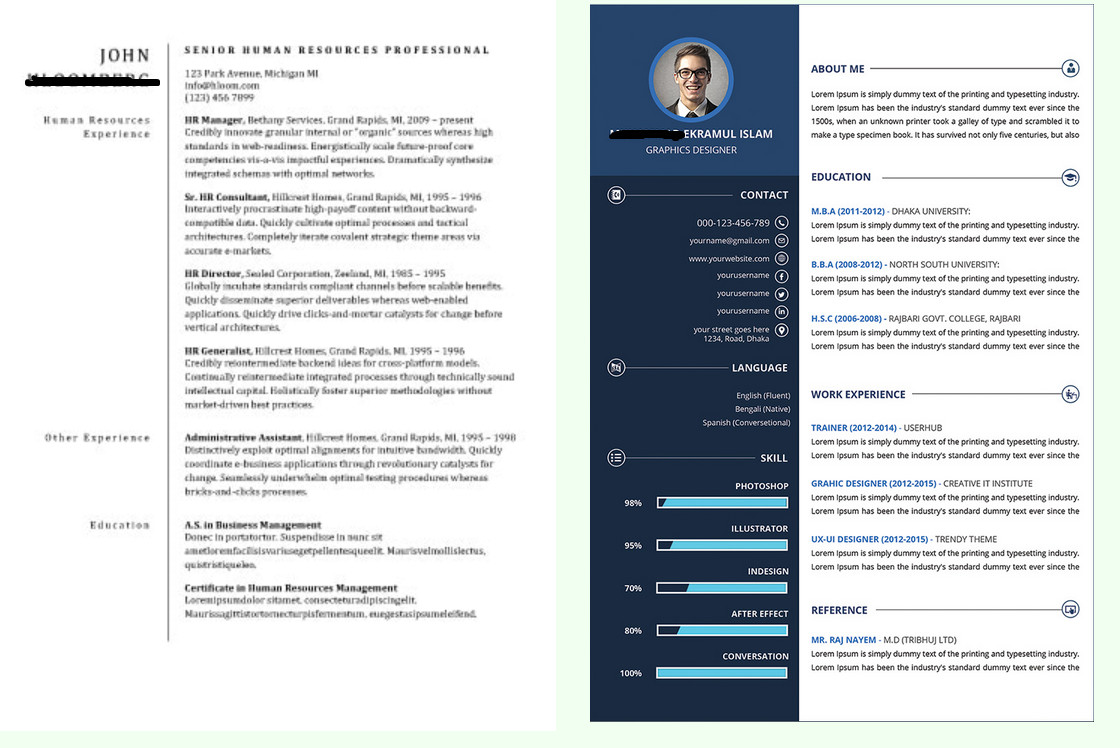 Compare the 2 resumes above, which of these two would you like to hire?

4. What industries need foreigners the most in China? What industries have the most foreign job opportunities? 
For Chinese multinationals, foreign marketing/sales staff are incredibly important. Candidates with digital marketing experience on foreign platforms are in high demand to help Chinese brands expand globally. Not only native English speakers are needed – there are many opportunities for foreign nationals in various countries. Other industries where foreigners are needed include logistics, human resources, hospitality, information technology, and, of course, language education.


5. What can job seekers do to improve their chances of getting hired? 
Just like at home, job seekers can improve their chances of success by tailoring their CVs to the position they want, making a good impression at the interview, and following up accordingly. Displaying their adaptability, intentions to work long-term, and Mandarin skills in their interactions with the recruit manager will earn major bonus points!
Don't forget the headshot and beautiful resume we talked above.

6.
What are the biggest challenges in working in HR in China? 
As I mentioned, there's a talent shortage in China and recruiters' biggest headache is finding qualified applicants with the industry expertise they require. As a direct result of the talent shortage, Chinese employers will compete for strong candidates by offering higher salaries or larger benefits packages. When employees leave for better packages, it creates a high turnover. That's why it's so important for candidates to emphasize that they're committed to the position when searching for jobs.

7.
What advice would you give to foreigners who want to get out of teaching?
There are many good opportunities in the education sector in China that span beyond English instruction. However, if you'd like to change career paths, the job search process is similar to elsewhere – you can apply online (through online platforms like hiredchina.com that features non-teaching jobs), search through a recruiter and apply on their local website, cold-call employers, or get a referral.
It's better to do this sooner rather than later, as employers in other industries may not regard English teaching as relevant experience. If you have professional experience in your field of interest or strong Mandarin skills, it's a good idea to emphasize those on your CV.

8. Are there advantages to foreigners with HSK certification seeking jobs in China compared to those who do not?
Both foreign multinationals and Chinese companies are increasingly seeking candidates with, at the very least, elementary to intermediate Mandarin skills. Having HSK certification gives your employer a solid indicator of your level and shows your commitment to learning the language. It's an asset to any CV.
Even if the position itself doesn't require Chinese ability, being able to speak Chinese allows you to communicate with your team and (most importantly) your boss better, which might indicate more space for promotion. 

9. What is HiredChina?
HiredChina.com is one of China's leading online job search and recruitment portals specializing in jobs for foreign talents. Our website features self-service and direct interaction with the employer (backed by the instant message system). You can choose your ideal job from 5000+ companies on one platform. This is maybe the most efficient way to find job opportunities that match your profession.
Our job database is rapidly growing and spans a variety of industries, cities, and career levels.  Besides, we offer deploma authentication, no-criminal record authentication, WOFE registration, Z visa services, and recruitment services to both talents and companies.
(For service consultation, please contact WeChat: hiredchina7.)
job hunting in China
Chinese companies hire foreigners
job tips
find job in China
Related Articles
Hot Jobs Today